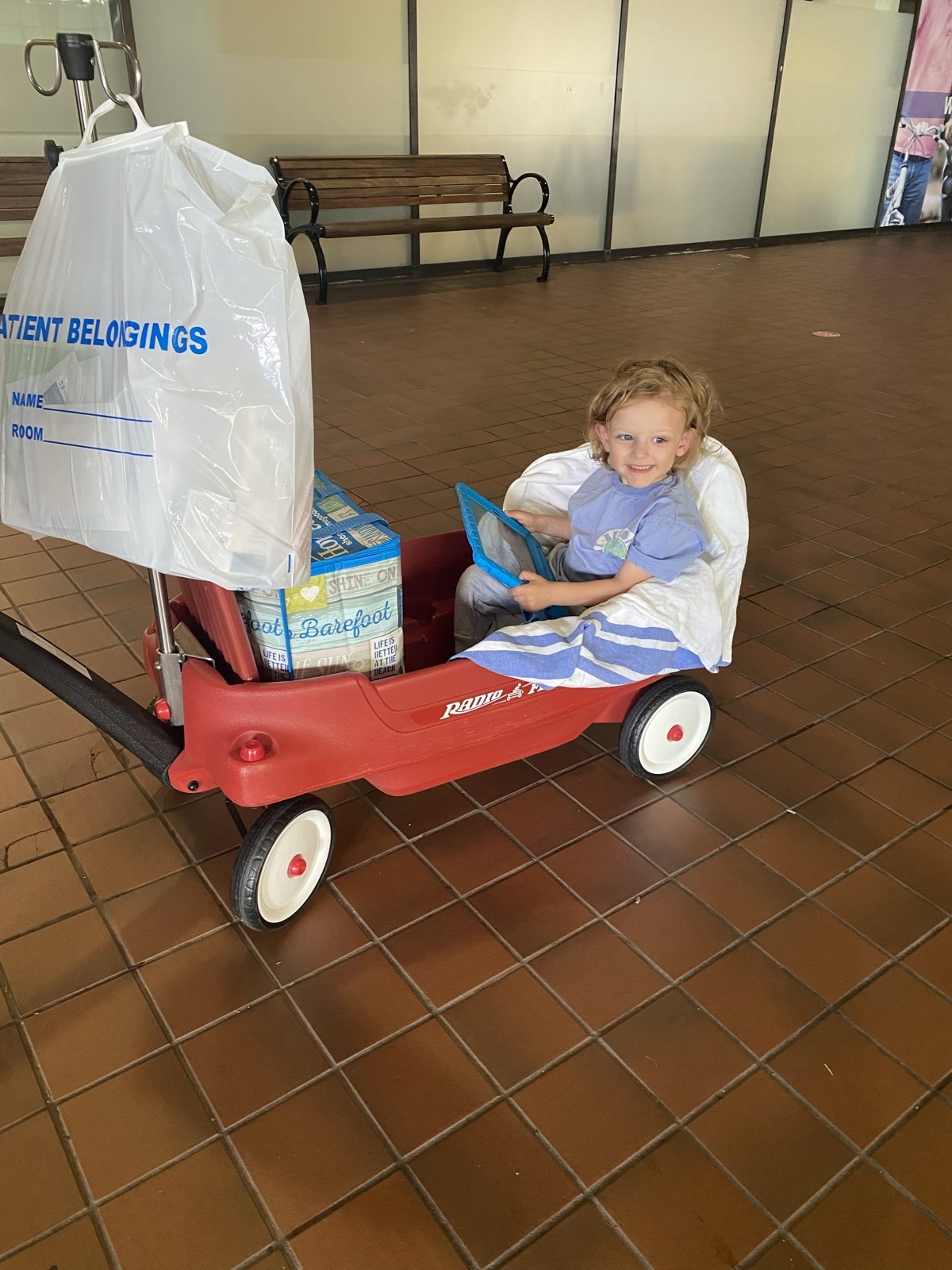 Big victories today, prayer warriors! And we have each and every one of you to thank for it. We found out on Sunday that Persy's ANC had come up to 100 and that he would be going home!
After a full day of packing up our things and receiving education and training on anything and everything, Persy got into the red wagon and was wheeled down to the car.
He drove home with mama and dada and was greeted by his brother Kep, Christmas decorations and a big sign in the yard with his name on it!
Persy was very active all day and was definitely exhausted after a long day.
Since being back home P has been thriving. He has been sleeping and eating great and, as always, has been a champ with taking his medicine (even a daily injection which stimulates white blood cells… ouch!). He has had fun playing with his toys, coloring, and driving his blue car with Kep.
Today Persy had his first clinic visit. Our prayers continue to be answered. The doctors were happy with his levels (which also means no more daily injections for now…yay!) and he didn't require any blood transfusions. They were all pleased to see how much better he was doing. Persy got a chest x-ray which showed an improvement in the appearance of both of his lungs and no definite pleural effusion. He will most likely begin his next cycle of chemo in a week.
We are thanking God (and our prayer warriors) for our many blessings this week!
BIG little victories
Persy finally got to go HOME (and see his baby brother Kep)!
Persy has been eating, sleeping, playing, pooping and taking his medicine like a champ since he's been home.
Persy's levels continue to improve.
Persy's lungs do not appear to be reaccumulating fluid.
Please pray
For Persy's levels to continue to improve.
For Persy to stay healthy while at home and continue to sleep, eat, poop, and play.
For clarity for Persy's mama and dada as they make big decisions regarding his treatment.
For the chemo treatments to work and for the tumors to get smaller so that fluid stops accumulating in Persy's lung.
For Persy's body to respond to the chemo and specifically that the chemo obliterates all the metastatic cancer sites in his body.
For his cancer to be attacked by the chemo, but for his precious body to be protected from the damage caused by the toxic chemicals.
For continued strength for Persy's mama and dada and his whole family.
Most loving provident God, we thank you and praise you for Persy's recent homecoming. May this coming home be a re-creation and experience of comfort and hope. May Persy and his family, as well as all who enter their home, know and feel your love and presence at all times. May life be again celebrated in each room of their house as they prepare for Your joyful coming. May You keep watch upon them and help them to find peace in each others' company and in the presence of You. May they be renewed in body, mind, and spirit. Amen.